Web Content Display
Web Content Display
Life Insurance
Life insurance is a key part of any financial plan, protecting against the serious financial difficulties associated with the death of a family member, business partner or key person. Whether benefits are used to maintain the standard of living of your family, pay your debts, make up for lost business revenue or to leave a legacy, HuGO offers a range of coverage to meet your needs today and in the future. You may choose flexible terms (10, 15, 20, 25 or 30 years) with guaranteed premiums and renewability. If your needs change, you have the choice to extend your term without any health questions or even convert to permanent insurance.
HuGO is a complete insurance product offered using our intelligent application process, all at a price that respects your budget.
HuGO - A Leap to Smart Insurance
What is Life Insurance
Whether you are looking to protect your family or your business, Term life insurance offers flexible and affordable protection you can customize to meet your temporary and growing needs, today and in the future.
Why Life Insurance
Family
Maintain a comfortable lifestyle
Provide income continuation
Pay off existing debts (Mortgage)
Pay funeral expenses
Leave a legacy for your family or a charity
Tax-efficient estate planning
Business
Business collateral and buy-sell funding
Pay the estate tax
Key person protection
Cover a commercial loan
How to determine your life insurance needs? Choosing the right amount of insurance is the key. Here is some information that may help. Please contact your financial advisor for more details and a complete insurance needs analysis.
Things to consider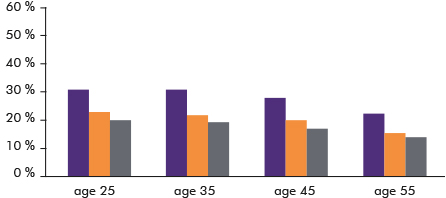 Source : Commissioners Individual Disasability Table A (CIDA 85). CI and death : Munich Re Group.

Statistics on premature death risk causes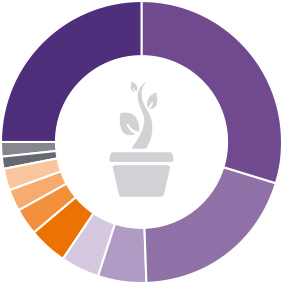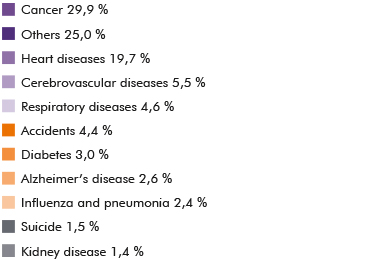 Note: In 2011, the total number of deaths in Canada all causes combined was of 242 074.
Adapted of: Main causes of death in Canada, 2011, CANISIM 102-0522 graphic, Statistics Canada
Personal planning:
If you are in a personal relationship (common law or marriage), how much do you contribute to the family budget? If you were to die prematurely, how would your survivor(s) get by?
Does anyone else depend on you financially, such as a parent, grandparent, brother or sister?
If you are a single parent, what level of support payments are you making or receiving? How would these be maintained?
If you have a mortgage on your home, would you like it paid off in the event of your death?
If you have children, would you like to provide for their continued education in the event of your death?
Are there any charitable organizations or other family members to whom you would like to leave money?
Could life insurance play a role in paying the taxes incurred when capital property is transferred from one generation to the next?
Business planning:
How would your business fare in the event of your premature death?
Would your business suffer an income loss if a key employee or partner were to die?
Could life insurance play a role in business or farm succession plans?
Are the buy-sell provisions in your partnership agreements properly funded?
Would there be expenses associated with recruiting and hiring replacements if a key employee died?